Several small nonprofits regularly offer aspiring playwrights an opportunity to write short plays and have them staged before
an audience. Incubators like Playground specialize in assigning a topic to a group of playwrights for an evening of 10-minute plays. Others may simply choose a theme and work with a group of writers to see what develops.
For the past few years, the Left Coast Theatre Company has worked to "develop and produce quality LGBT theater featuring new works by both Bay Area and national playwrights." As with any tasting menu, some items may be light as air; some may be bitter and poignant. Many are hilariously funny.
This spring's collection of Twisted Fairy Tales was notable for its two strongest themes: the meddling (for better or worse) of a fairy godmother and the ability to mine new comic material from the classic tale of Cinderella.
Written by Rodney "Rhoda" Taylor, and directed by David Rice, My Fairy Godmothers revealed what can go wrong when the performance skills of Edwina (John Terrell), a "Fairy Godmother in Training," are unexpectedly assessed by her superior, Hilda (Desiree Rogers) who has accidentally sent Edwina to the wrong address. After the two start arguing and awaken Jimmy (Kai Brothers), they are shocked to learn that Jimmy doesn't need their assistance finding true love because he's already married to another man.
Directed by Joseph Frank, Nick Brunner's Calc 101 introduces a screamingly annoying Fairy Godmother (Val Garrahan) to a math class being taught by a Professor (Chris Maltby) who is trying to keep his high school students under control. Among these are:
Jack (David Glazer), an annoying little twit who won't stop screaming the lyrics to "There Are Giants in the Sky" despite the fact that no one has paid Stephen Sondheim for the rights to use his song.
Chicken Little (John Terrell), who keeps tossing miniature chocolate bars in the air and warning that "The sky is falling."
Rapunzel (Rodney "Rhoda" Taylor), a homely drag queen with a defiantly messy wig.
Captain Hook (John Terrell) and Peter Pan (David Glazer).
The real action, however, involves a tug-of-war between the closeted, nerdy Kyle (Luis Quiroz) and super mean girl Janet
(Lauren LeBeouf) for the attention of dumb jock Evan (Max Hersey) who, as luck would have it, is secretly hoping for an excuse to dump Janet and find his way into Kyle's pants.
Written by James A. Martin and directed by Debi Durst, Poof introduces the audience to nine-year-old Timmy (Tye Olson), who is convinced that he's destined to be a Boy Princess. After being given a magic wand by a cross-dressing homeless man (Paul Dana), Timmy finds a way to use its powers on his obnoxious Stepsister (Val Garrahan) and disinterested Stepmother (Kim Saunders). When Timmy's father (Dene Larson) realizes how much he has ignored and underestimated his son, a brighter future beckons for the men (including an Italian bodybuilder to fulfill the erotic fantasies of the cross-dressing homeless man).
Written by Chris Maltby and directed by Scott Boswell, Happily Ever After examines what happens when two young men who have always taken cues from a mysterious "voice" find themselves in a brave new world where same-sex couples have evolved from an immoral and impossible concept to a shining new reality. Ever the dumb member of royalty, Prince Crispin (David Glazer) has no idea how to proceed without a narrator guiding him to his future. However, the Prince's boyfriend, Garrick the Stable Boy (Tye Olson), proves to be a quick learner at the hands of The Voice (Kai Brothers) and quickly dumps the Prince for someone with more pluck who's sure to be a talented and accomplished fuck.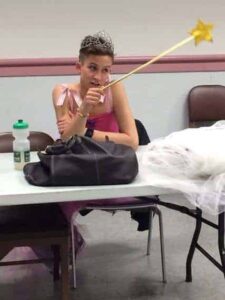 Directed by Margot Manburg, Matt Crowley's touching The Mice Will Play is an extremely poignant piece for two women. Francesca (Sarah Doherty) and Julia (Beebe Reisman) were two mice pulling Cinderella's coach until they were suddenly transformed into humans, capable of feeling emotions such as yearning, doubt, and love. As midnight approaches, and they start to explore their feelings for each other, the two women wonder if they'll ever have a chance to feel this way again.
If you think you know the story of Little Red Riding Hood, you need to experience Eat Me! Written by Paul Dana and directed by Joseph Frank, this farce features David Glazer as a social-media fixated young man wearing a red hoodie, Gabrielle Motarjemi as his exasperated grandmother, Richard Ryan as a hungry Wolf on parole, and John Terrell as the local Sheriff who likes young boys.
Last, but certainly not least, is Heather Meyer's Stepmother's Manifesto. Directed by Scott Boswell with Richard Ryan acting as Narrator, this piece gives the exhausted Wanda (Debi Durst) a chance to debunk the claim that she is Cinderella's "evil" stepmother.
With good reason to resent being described as evil to generations upon generations, Wanda pulls back the curtain on what life is really like in her home. Of course, there's ugly stepsister Celeste (Rodney "Rhoda" Taylor) and Cremora (Gabrielle Motarjemi), the ugly stepsister who has a wicked crush on Cinderella. But Cinderella is no pillar of virtue. Instead, the short-tempered, narcissistic young woman (Val Garrahan) gives the nervous Prince Charming (Max Hersey) plenty of reason to wonder if she's worth his time.