It's kind of become a tradition with my friend Lisa and I to go enjoy the Left Coast Theatre Company's collection of short GLBT plays about families.  Partly, because we're "family" – the way that most matters…in the heart.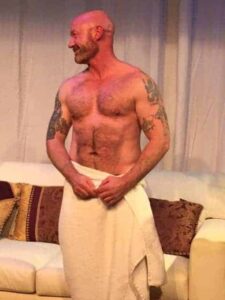 One reason we like this original and inventive short plays is there's usually about 5-7 of them. If one isn't your cup of tea, then 10-15 minutes later, another one is performed.
Left Coast Theatre's "WTFamily" Best Ever
Left Coast's newest collection of shorts, "WTFamily," running through April 25 at the Shelton Theater, is their best set ever!
And that's a good thing because my "family" who wants to attend has grown and so now I have to go twice so I can accommodate everyone's schedule. This is so much fun, that I am looking forward to seeing it again with relish.
This collection of six shorts has not one false note – it starts on a high and stays there throughout.
The first short, "Who are These People?" is about a nice young man who can't believe a hunky guy loves him – but more than that, will their relationship continue to blossom after the hunk meets his boyfriend's odd parents. This story really rings true in which we all are sometimes kind of embarrassed by our families. Writer/director Chris Maltby shows to perfect effect every reason why we often like to keep our partners separate from our families.
The stories go on with "Wingman," by Eli-Effinger-Weintraub, is a wry and witty story that showcases a remarkable performance by Maya Mahrer as an over-bearing mom who is trying to help her daughter find a nice girl to date. Co-star Dezi Soley pulls a bit of focus from our leads – mainly because she is strikingly beautiful. I wonder how much I'd be drooling if I actually wasn't gay! But she is drop dead gorgeous and is very believable who witnesses the mother's matchmaking in action.
Terry Maloney Haley's "Falling" is about a straight couple who are saying "I love you" to each other for the first time. Straight? Why is this in the program? Well, there is a funny and interesting GLBT angle that is as original as it is refreshing. No spoiler alert to tell you why this definitely needs to be in this program but it is definitely fitting of the shorts' theme.
Writer Chris Maltby turns up as an actor in Charles Zito's "Runaway," in which his sister's gay son runs from New Jersey to Maltby's New York apartment. While Maltby lives single in Chelsea, he's shocked that his family knew he was gay, which leads to several riotous conversations between him, his sister and nephew.
And talk about quick change…actor JD Scalzo no sooner finishes with "Falling" then he's on stage again in J. Stephen Brantley's award winning "Shiny Pair of Complications," a story of a gay man having a heart-to-heart with his dad before his wedding.
The final short, "Motherly Advice," written and co-directed by Rodney "Rhoda" Taylor, has a little something for everyone even though it's another story in which a man is fearful of introducing his boyfriend to his mother. Not only because the mother is a sex therapist (Gabrielle Motarjemi – who was also in the first short and has a complete character transformation here) but his boyfriend is older – did someone say daddy?! (especially in the body of the bear chew toy and delicious Justin O'Kelly).
From start to finish, this is Left Coast's best. I was a bit sad not to see Rodney "Rhoda" Taylor in a show – but I at least got to interview him. Check it out at http://tinyurl.com/WTFamilyProgressivePulse
Taylor and Richard S. Sargent (who is the lead in the first show and directed "Complications") deserve special kudos for their Production Design and Stage Management – a lot to do between scenes and with such a small stage.